How Lit is Lit Enough?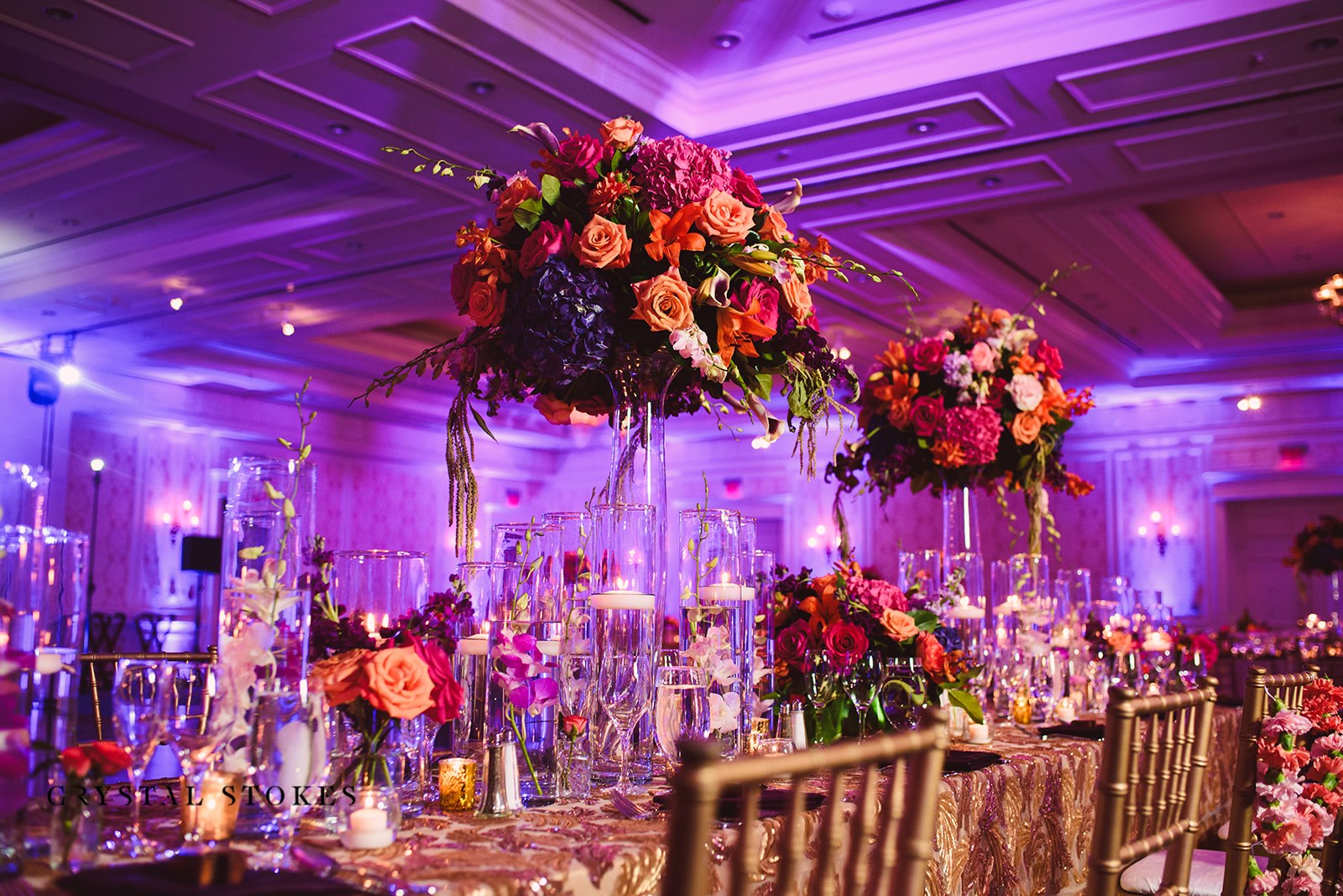 Uplighting refers to colored ambient lighting that can be found accenting or washing the walls of social/corporate events and weddings. This effect is achieved by arranging high-powered LED fixtures (ours are 100% wireless) symmetrically along the perimeter of a room. These fixtures highlight the walls and architectural features of the venue while complementing the florals and design. The end result is a beautiful ambience that will elevate the presentation, photographs, and energy of your event!
Photo Credit: Crystal Stokes Photography
Deciding on the perfect number of uplights for your event is never easy. In our experience, we have found that happy medium to be 24-32 lights, but no two rooms are identical. Certain venues look fantastic with only 16, while others require the full power of 40! Ultimately this will depend on venue dimensions as well as your desired look: accent or full wash. Contact us with your event details and we can make a recommendation for you!
Photo Credit: Vesic Photography
Using a fewer number of fixtures spread evenly over a larger area, we are able to achieve symmetrical accents and a soft glow to the room. We recommend this look for indoor ceremonies, intimate receptions, and rehearsal dinners.
Photo Credit: Photographick
Using a larger quantity of fixtures placed closely together, we are able to reduce the physical space between lights, resulting in a continuous wash effect that looks simply stunning in photos and in person! We recommend this look for all midsize and large scale weddings, corporate events, and social functions.
Photo Credit: Joe Payne Photography
With wireless control and the ability to set different scenes that can be activated throughout the night, you don't actually have to stick with just one color for your event. Deep blue during cocktails, candlelit amber for dinner? A gentle color fade while the dancefloor heats up? All possible, instantly, at the touch of a button.
Photo Credit: Sachi Anand Photography
Interested in hiring our services for an upcoming event? Have questions about event lighting in general?